With that last post still fresh on my brain, I figured I would share the one project I did do for myself recently, for no particular reason. I have set of shelves above my desk (where I spend most of my time), and those shelves are home to many of my favorite things. It started out as a place to display my photo books and small camera collection. But in the months since I moved in and put them up, it has become a home to most anything I love that has to do with photography, with a few other wayward items that I am partial to. The shelves themselves are covered in book pages from a Mormon book I found at an antique store. It is not significant that they are Mormon, just interesting. I didn't realize it until after I had started the process. One night I decided to make those two shelves the subject of my lens. Kinda like a self-portrait of sorts. I didn't rearrange anything, but simply photographed the things I've looked at a thousand times. Some of it is abstract, faces half hidden, words cut short or out of focus. It is how it looks even now (with the exception of a few new books). Even the treatment says something about me... it's grainy and grungy and old looking...just the way I like it. I dare not say it is art, and for most of you it won't be interesting I'm sure, but for me, it's a start at getting back in touch with what I love about what I do.

Four Cameras and JPG Magazines. Issue 7: Self-Portraiture.


Brazil.


My Grandfather's Brownie and some tintypes.


Another camera sitting on the trailers for "SAW" and "Shaun of the Dead".


Zombie finger puppet sitting on my name spelled with old type letters. Did you notice the "a" is really a "g"? I didn't for a very long time.


"Hell" and the crow. The book is photographs by James Nachtwey, and it has a funny story on how I obtained it.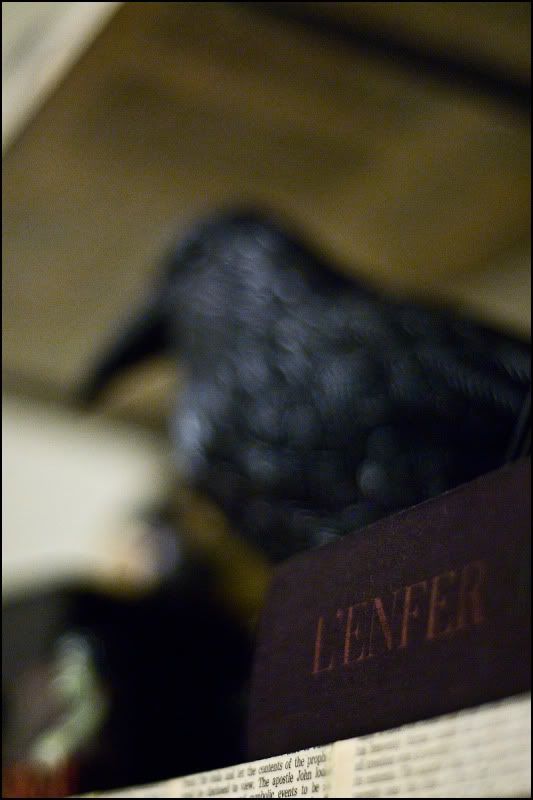 R.I.P.


Time and Imogen Cunningham. I've shot one roll with this $1 TIME camera and it remains undeveloped.


Holga, civil war bullets, Edward S. Curtis. Oh Holga, I wish I used you more.


Beloved and Holga. To the left is a picture of a band, to the right, the only picture I've taken with the Holga that I really like. Taken in Brazil.


Shelby Lee Adams. Familiarize yourself.


One of the best gifts ever. "Horse" by Michael Eastman.


Little Brownie.


American South and American West and my dad's family camera from his childhood. "In the American West" is probably my favorite photography book that I own. Avedon amazes me.


Detail of the cover. Half-out-of-focus.